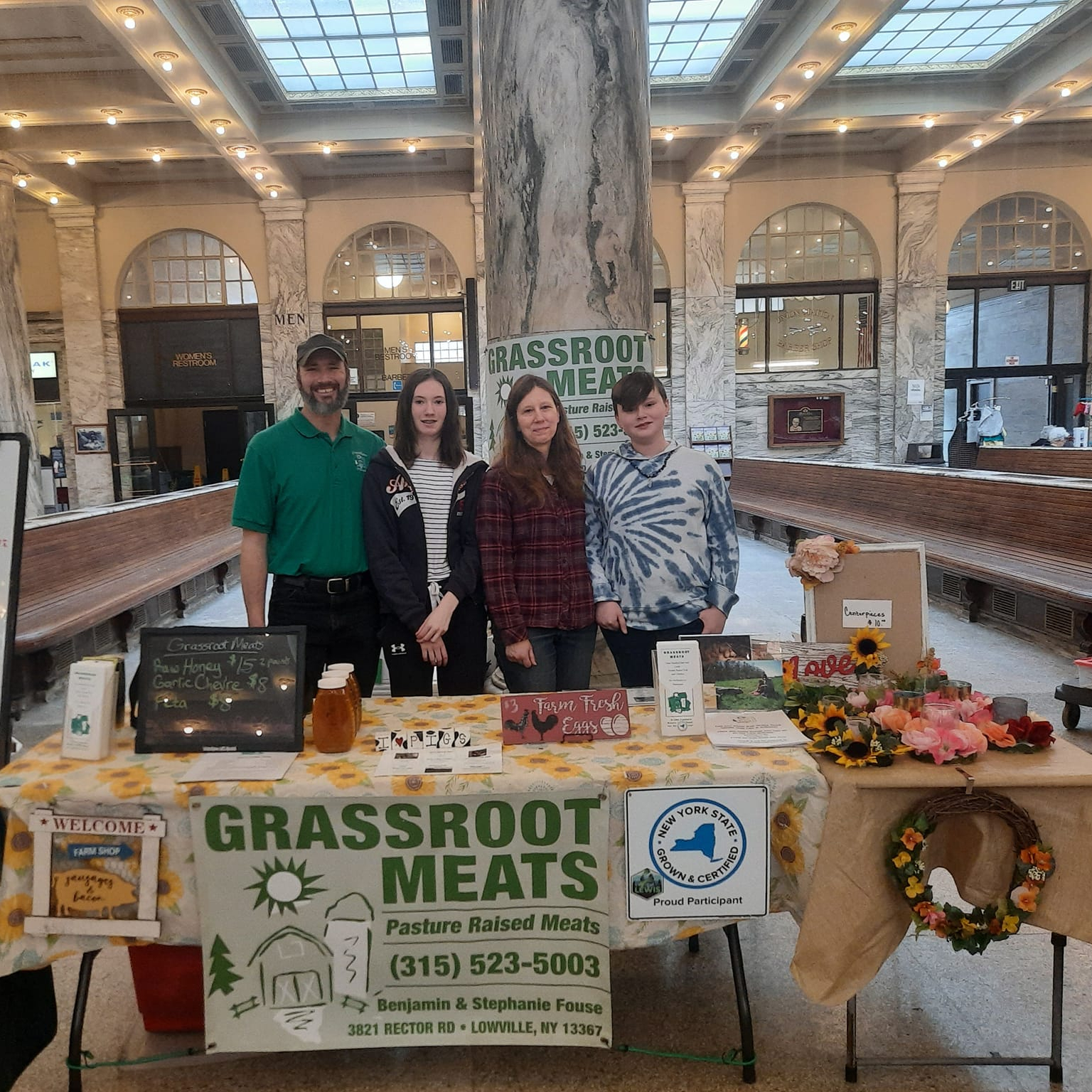 Grassroot Meats
Contact: Benjamin and Stephanie Fouse
City: Lowville, NY, 13367
Email Address: grassrootmeats@yahoo.com
About Us
In 2006 we, Benjamin and Stephanie, decided to move to Northern New York where Stephanie is from. We took our faithful dog Boaz and a loaded stock trailer and started the move. After arriving Stephanie worked at Beaver Camp and Benjamin worked at Whites Farm Supply. After two years and the birth of our first child Grace, we decided to start up Grassroot Meats. We sold half and whole hogs for a few years, then we added chicken and started processing our own poultry again for ourselves and others. Two years after Grace was born, we had our son Luke.

After a lot of looking, we found a nice place on Tug Hill with a little acreage. We slowly fenced it off and added the needed buildings to house their livestock. We have been slowly growing it since. We now raise about 20 pigs a year, 7 beef, 12 lambs, 700 chickens, produce and now Chicken stock, Lard, and sprouts. We try to network with other farmers to give a variety to our customers.

Practices
Our Slogan has always been "Green Pasture Makes Good Meat For Quality Folks". We believe that by giving the animals their natural habitat they will produce quality healthy meat. We Grass Finish all ruminant animals. The pigs get an acre planted with radish, turnips and vetch where they can use their natural ability to dig with their noses. We have two goats that travel around with the steers and lambs for weed control. We are hoping to continue to expand in the future. We love bringing good food to people. We feel it lives out our values as farmers.